Adding Tags
Any admin with access to the case can add tags with the exception of Viewers, as this is a view-only role.
To get started using tags, visit the case you want to tag and click + Add A Tag.


You can select from existing tags or start typing to create a new tag, and add it to the case.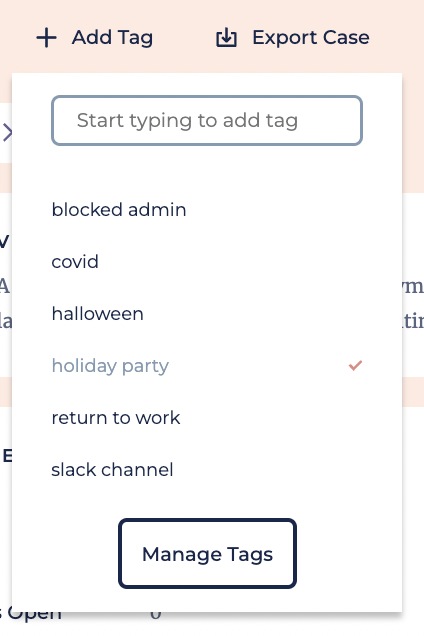 Once added, the tag will display at the top of the case.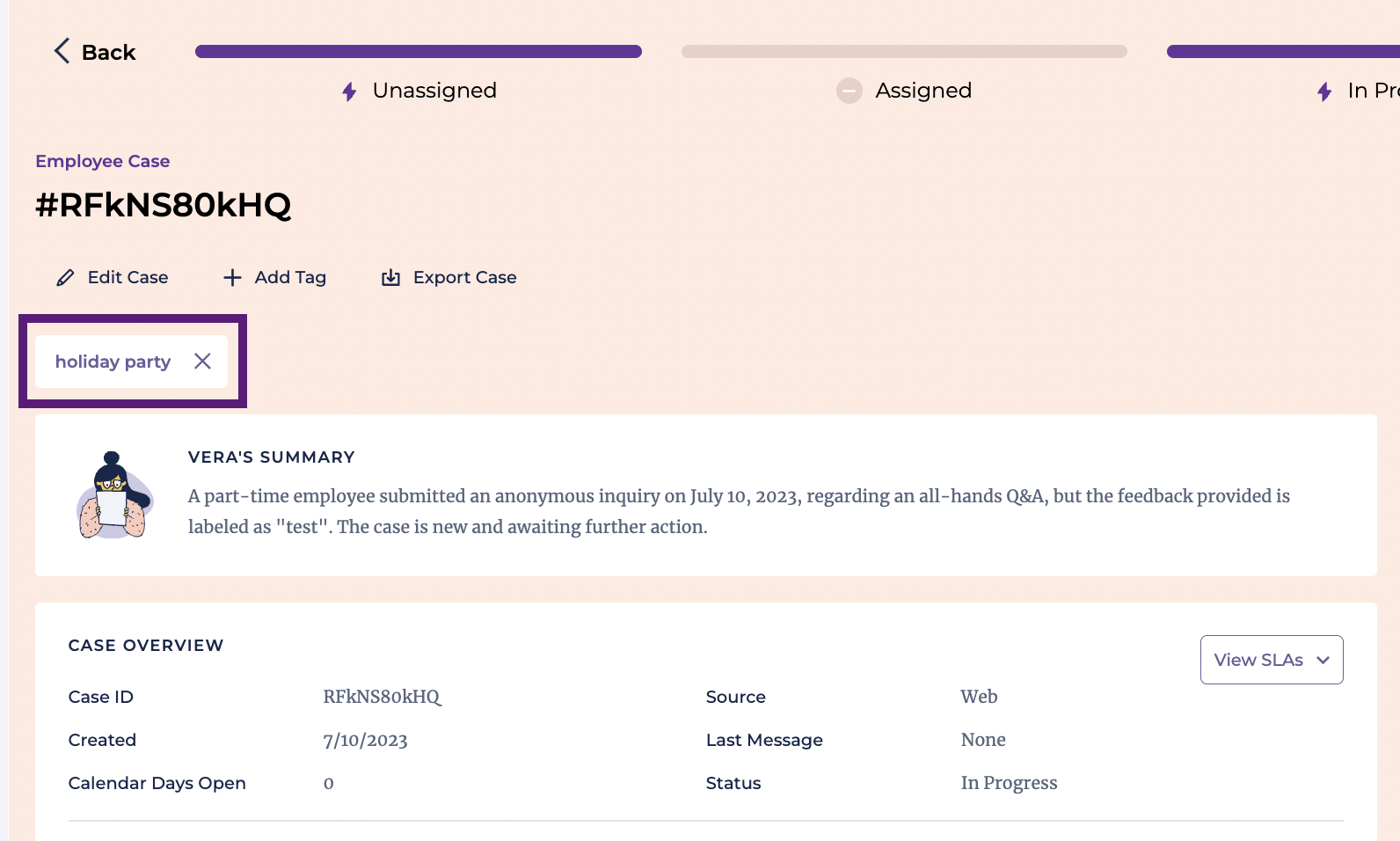 Any tag added to a case will show to any administrator with access to that case. Adding a tag to a case will also make the tag available for other administrators to use. This is to ensure admins are using consistent tags to categorize cases system-wide.
Tags are not case sensitive, and cannot be duplicated.
*For example: If the tag "Return to work" exists, admins will not be able to create an additional tag called "return to work."
Removing Tags
Any admin with access to the case can remove tags from the case, with the exception of Viewers and Managers. To remove a tag from a case, click the x next to the tag at any time.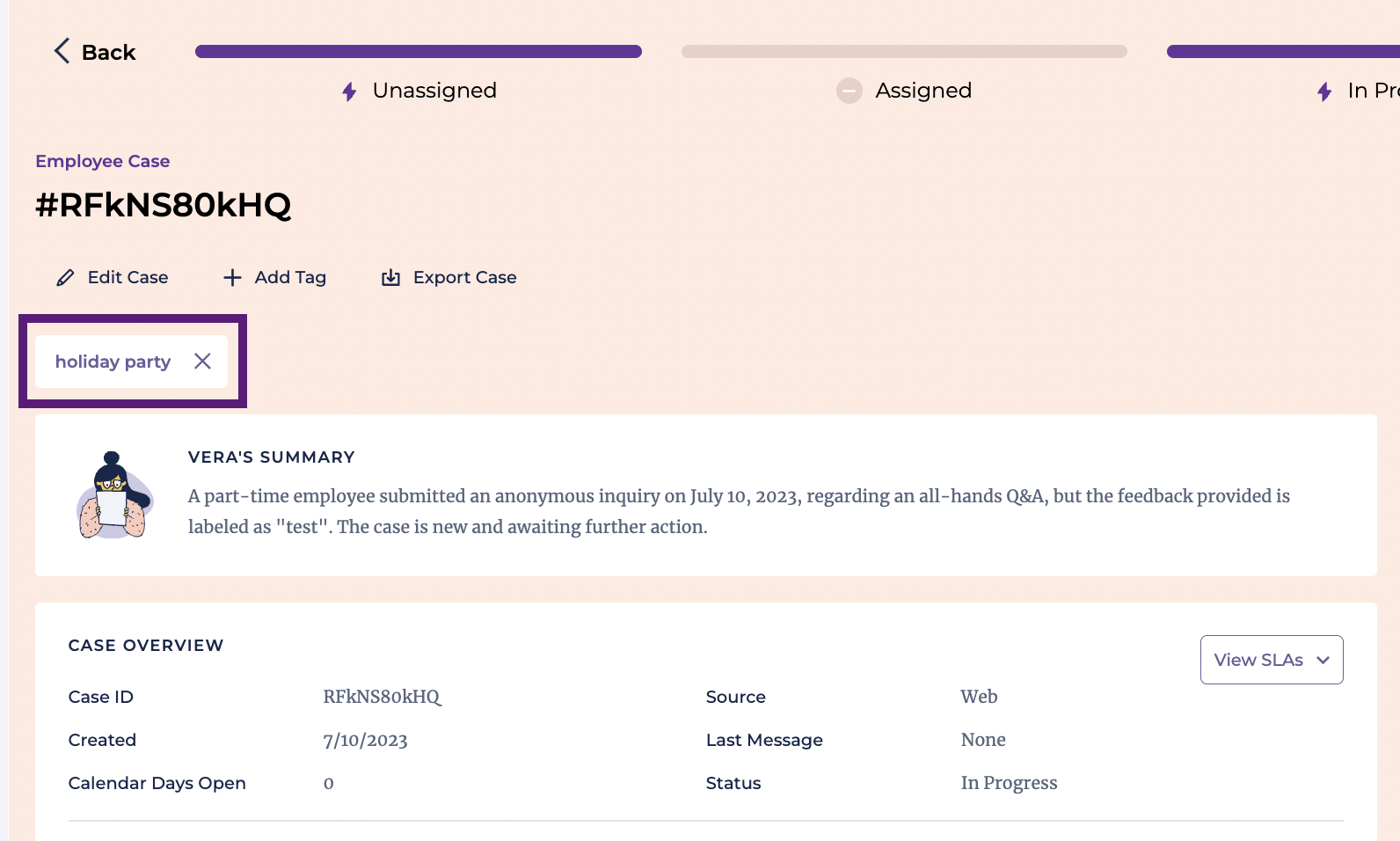 This will simply remove the tag from this specific case, but will not delete the tag entirely. If you wish to delete a tag permanently from the system and from all reports, you can do so under Manage Tags.
Managing Tags
Manage Tags allows you to create a new tag, edit existing tags, and delete tags system-wide.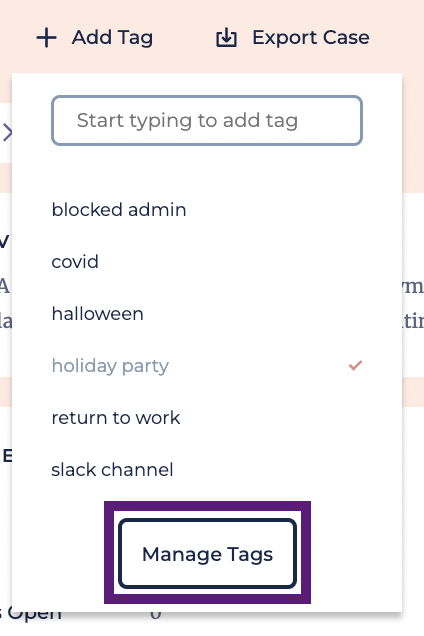 Searching or creating tags in the system:
Under Manage Tags you can search existing tags in the system to edit or delete them. If you search a tag that does not exist you can create it so that it can be used by other admins going forward. If you add a tag under Manage Tags, it will be made available to all admins, but it will not automatically add to any case.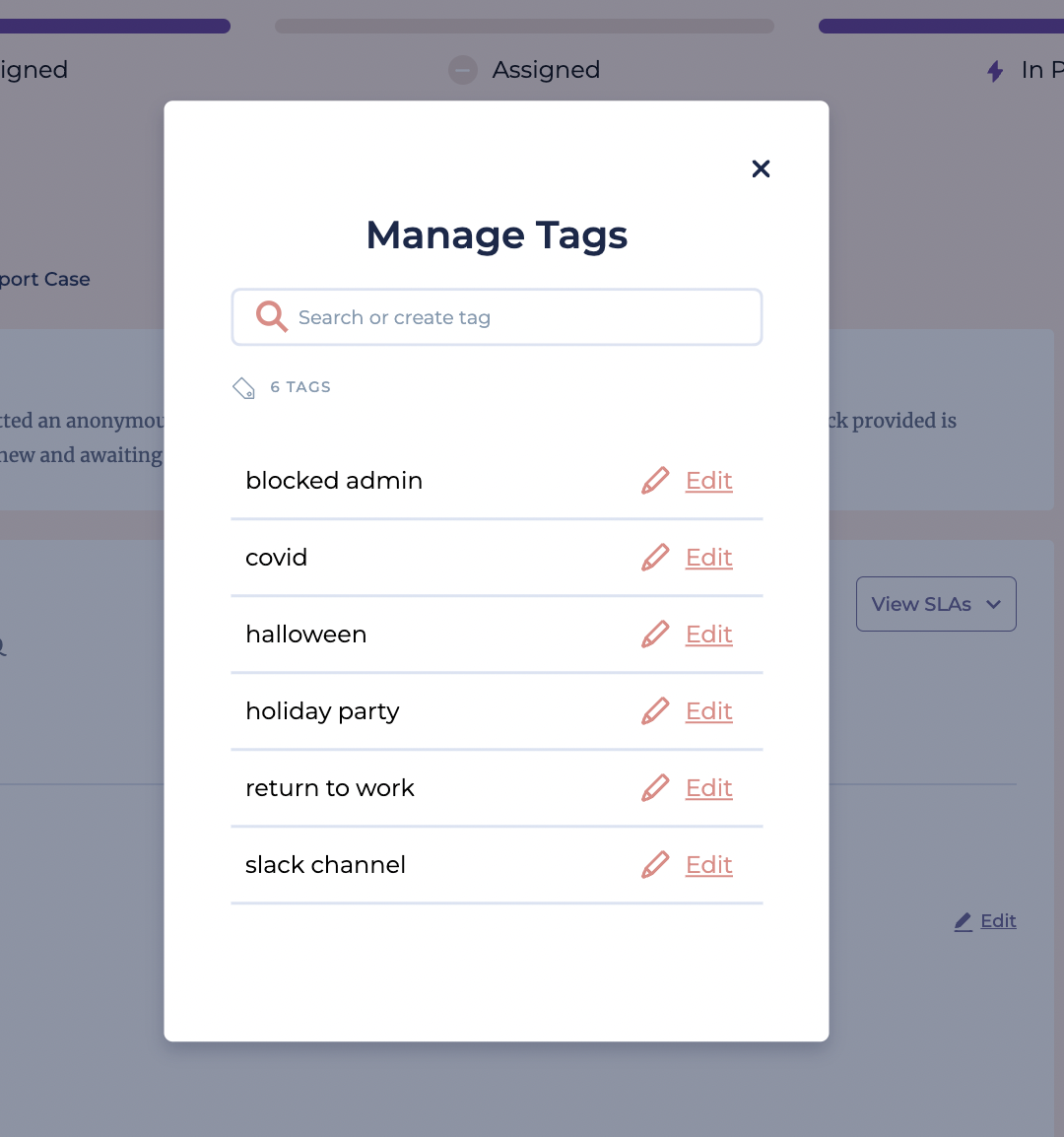 Deleting Tags
To delete a tag, click Manage Tags, find or search the tag you want to delete, click Edit and click Delete Tag.
NOTE: Owners and Primary Admins can delete tags from the system entirely, while Sub Admins can only delete tags from the system if they are not currently being used on reports they do not have access to. This is to ensure a Sub Admin does not accidentally delete a tag being used on a report they cannot see.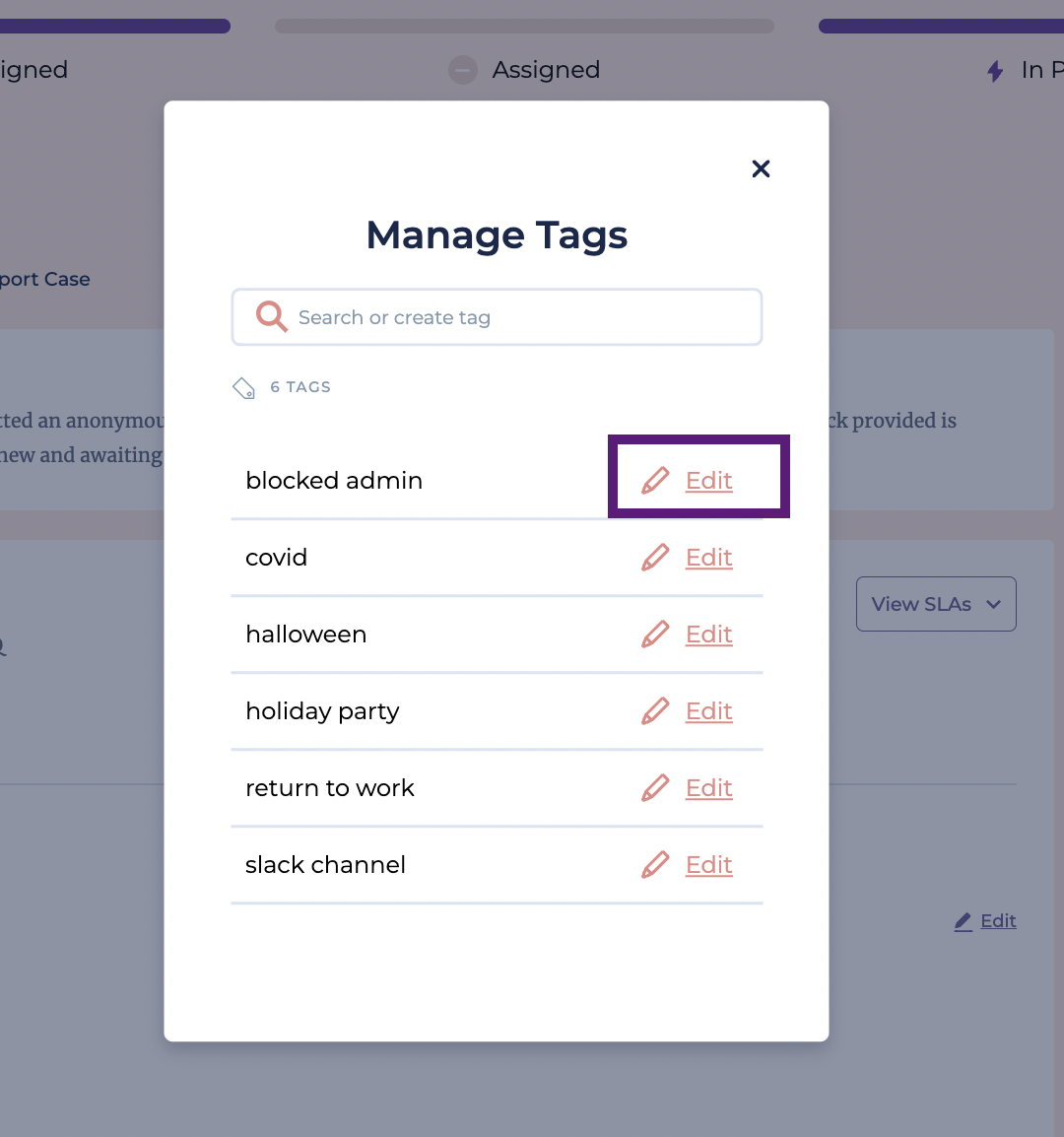 Editing Tags
To edit a tag, click Manage Tags, find or search the tag you want to edit, click Edit, make the desired changes, and click Save Tag.
Owners, Primary admins and Sub Admins can all edit tags. These edits will apply everywhere the tag is used in the system, so admins should be sure this is intended before saving any edits.
Searching Tags
Once you have added tags to your reports, you can select the tag icon next to the export button from your case dashboard to locate reports with specific tags.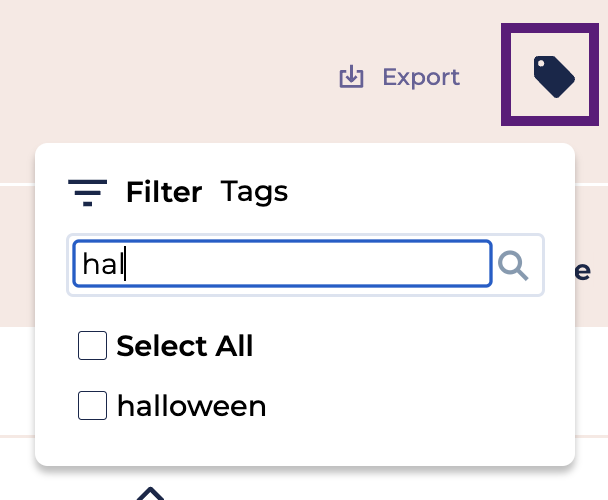 You can also search multiple tags to help narrow down your results.
NOTE: If you apply two tags in the search bar, you will only see results for reports that have both of those tags.
If you have any additional questions, please reach out to your Customer Success Manager or support@allvoices.co.