The purpose of this guide is to outline the functionality of the AllVoices App for Slack for Employees. If your AllVoices company account does not have AllVoices for Employees integration enabled, reach out to your AllVoices administrator team for assistance.
How do I know if I have the app?
When logged into Slack, you should see the AllVoices app available to you in the bottom left corner of the Slack interface.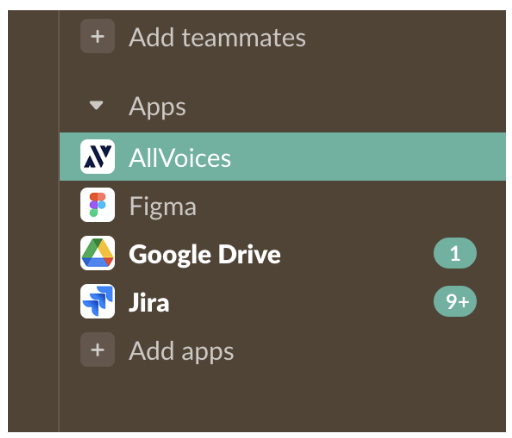 How do I submit feedback?
You'll have two options available to you in the Home tab of the AllVoices app: Submit Via Slack and Submit Via AllVoices Site.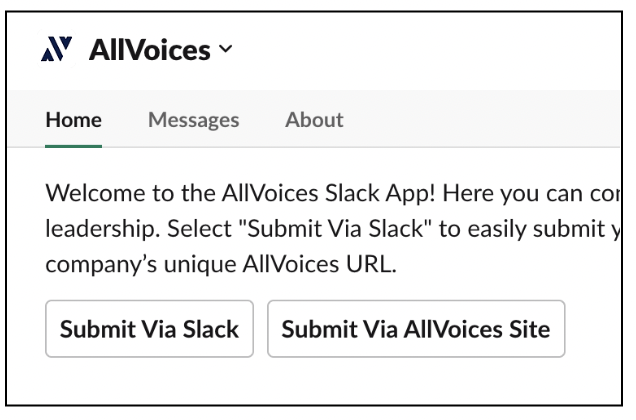 This option will take you through your company's feedback submission process entirely within Slack.

First, you will see a message assuring you of your anonymity. Select "Submit" to continue.

Next you'll be taken through the submission flow - here you can enter your information choose whether you'd like to complete the submission anonymously or provide your identity.

When all of your information has been added, select "Submit."
Submit Via AllVoices Site
If you would prefer to not submit feedback on Slack, clicking this option will redirect you to your company's AllVoices site.
If you have any questions, please reach out to your company admin or support@allvoices.co.