Our new dashboard layout creates a cleaner and more connected user experience. See below for a comprehensive walkthrough of the new interface. Additionally, view our walkthrough here for more information.
Quick verbiage tip to start: What were previously referred to as Reports are now referred to as Employee Cases. If you've previously used our "Case Manager," where you as an admin create a Case, these cases are now referred to as Admin Cases. The goal of this transition is to streamline your dashboard by removing separate tabs and visualizing all of your cases, both employee-submitted and admin-created, in one centralized view.
Navigation tip: Click the AllVoices logo in the top left corner to return to your new main case manager dashboard at any time.
Key Features:
Quickly and easily see what's new in your dashboard with clickable filters directing you to cases that need your attention.

The left navigation bar has been removed to optimize the space for your case list. Navigation has now moved up to the top right using the different icons we outline below.

The separate tabs we had previously have been removed so that all cases, both employee and admin, are listed in one simple view. Still want to look at just one category of case? Use the filters to change your view.

Filters & sorting has moved directly to the column names - simply hover over to find filters, or click the name to sort.

Using our Investigations tool? You'll notice there is no longer an Investigations tab. Instead, simply click the investigations icon (the person with a magnifying glass) next to the Issue Type column header to see all of your cases that have an investigation attached.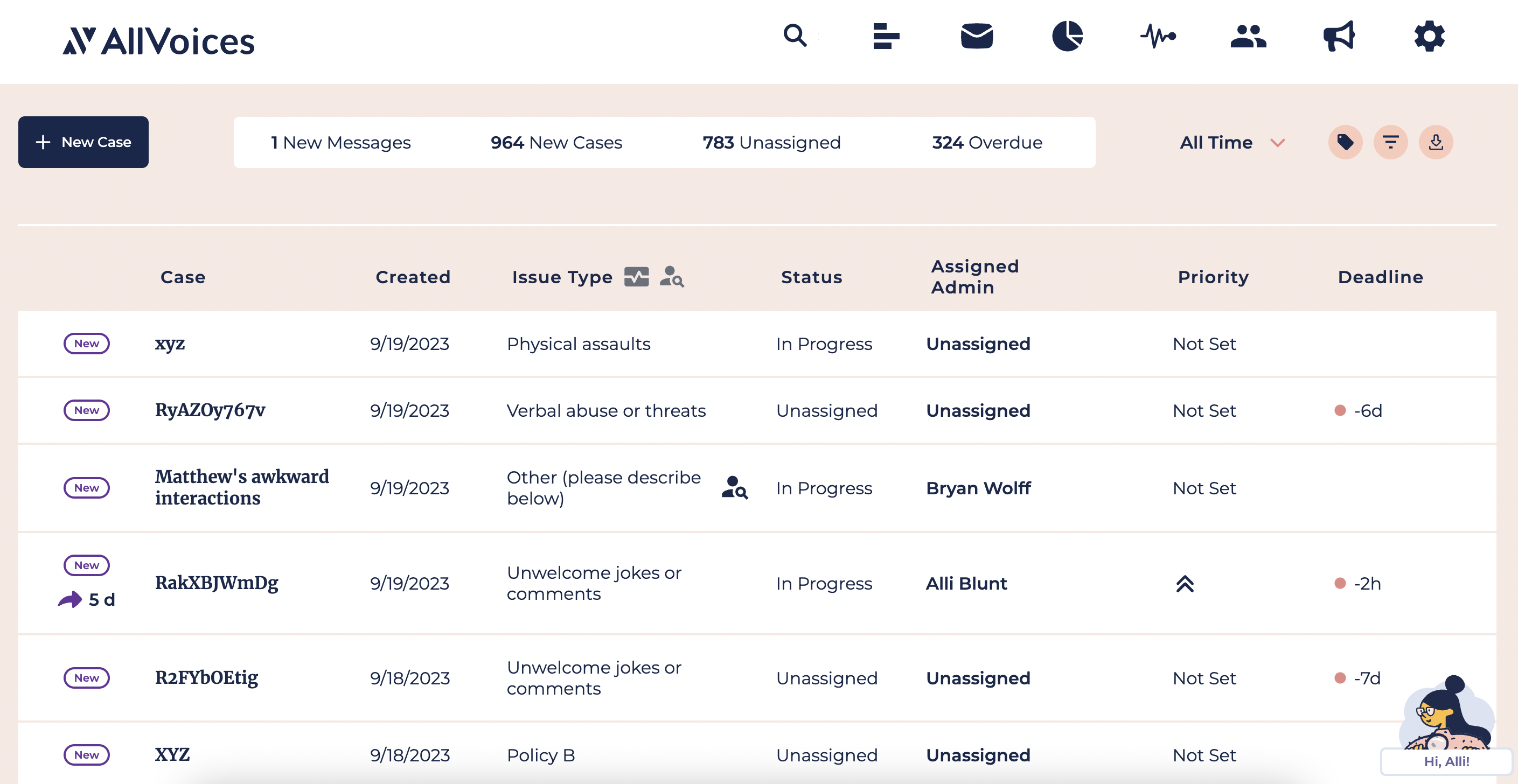 Top right icons: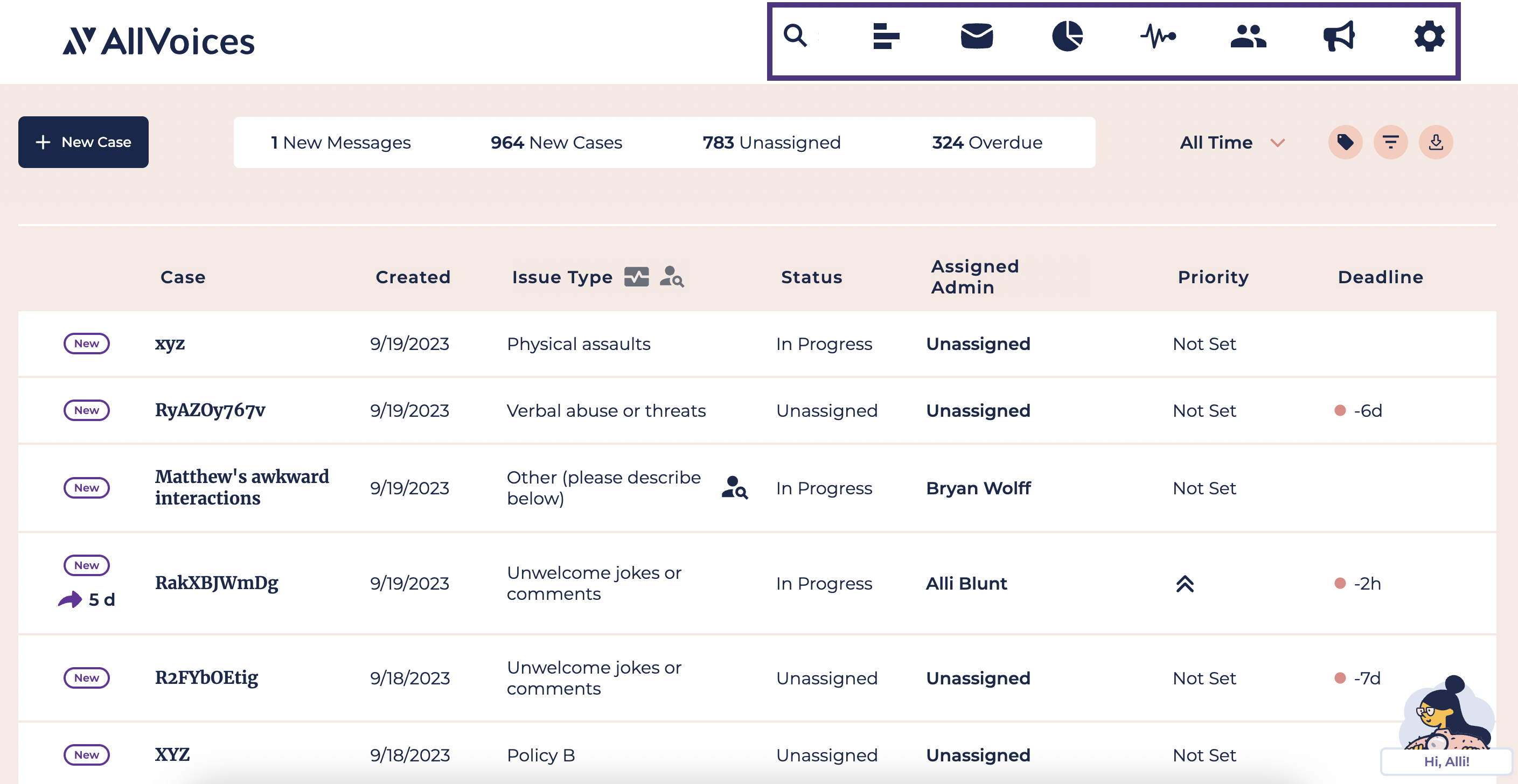 Magnifying Glass Icon: Search within cases, pulse surveys, employees, and more with this search icon.
Horizontal Bars Icon: *NEW for Pro & Enterprise Customers* Compare your company's resolution stats against the average AllVoices customer with Benchmark Analytics.
Envelope Icon: The envelope icon will take you to all of your messages.
Pie Chart Icon: This icon will bring you to your data overview page (this was previously your main "Overview" page). You will see charts and data visuals based on your case data including case category, location, department, assigned admin, and more.
Pulse Icon: View, edit, or create new pulse surveys by selecting the pulse icon.
People Icon: If you have your HRIS connected, this icon will allow you to view your employees and their related cases.
Megaphone Icon: If you have your HRIS connected, this icon will allow you to send an email prompting employees to submit feedback directly from the AllVoices platform.
Gear Icon: When you select the gear icon you can view or edit your settings, visit the Resource Center, provide us with feedback about the site, and sign out as needed.
Next row of icons/labels: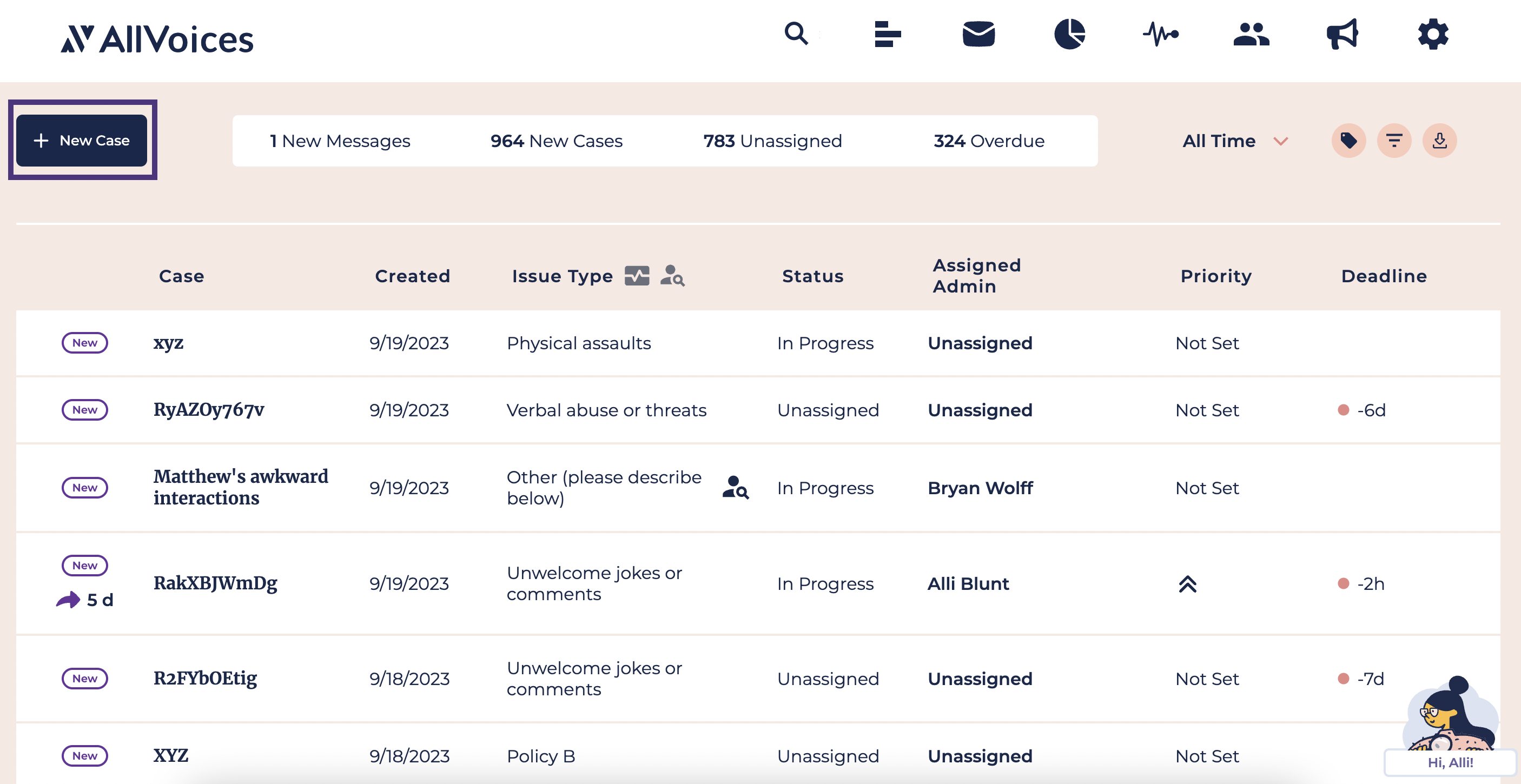 + New Case: This button will allow you to create a new case, typically an issue that came to you from somewhere other than the AllVoices platform (ex: in person, via a zoom call or Slack/Teams message).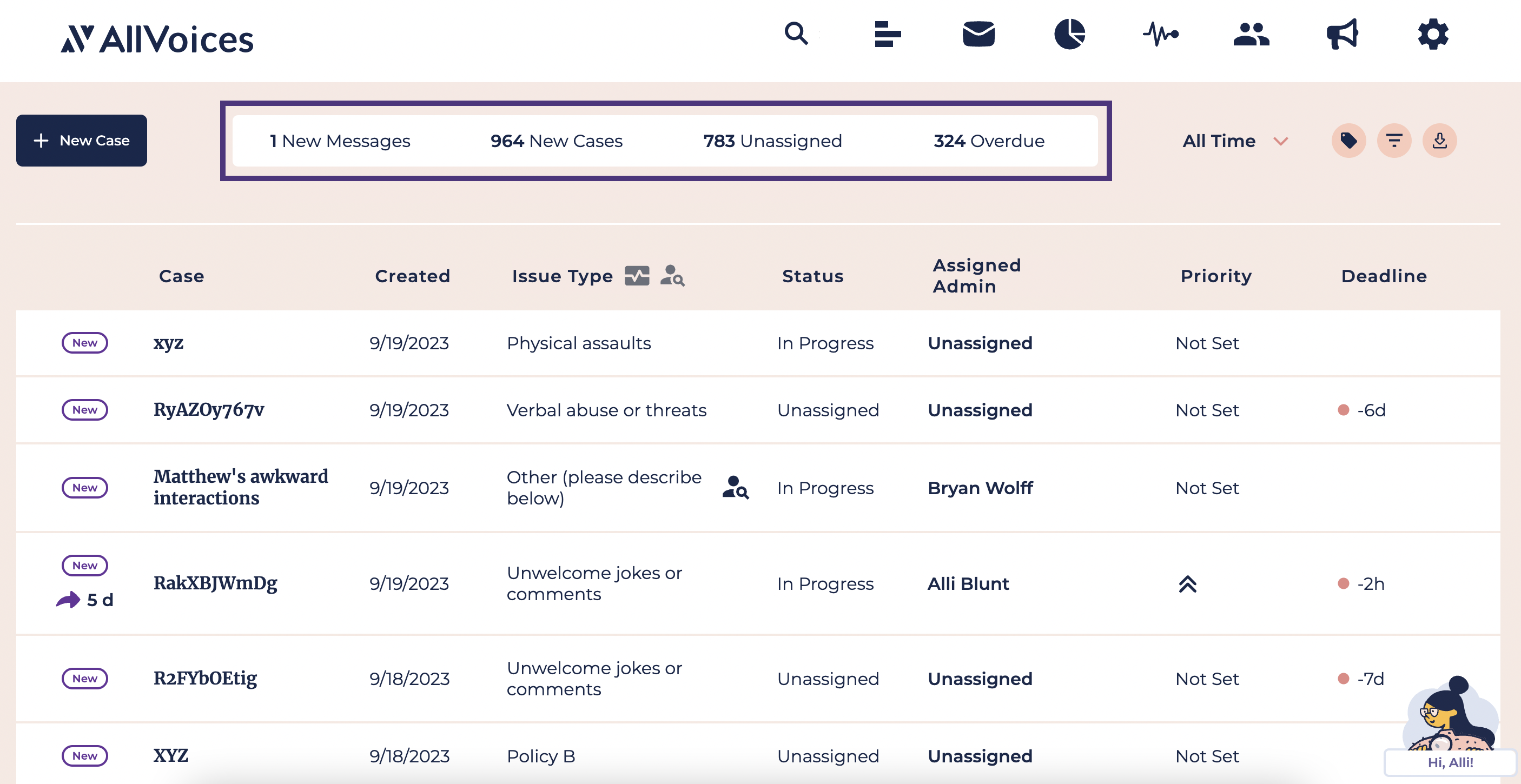 The above section is a quick overview into new messages, new cases, unassigned cases, and overdue cases. Overdue cases are related to the internal deadlines you've created in your settings outlining how quickly you and your team are taking action on cases (SLAs).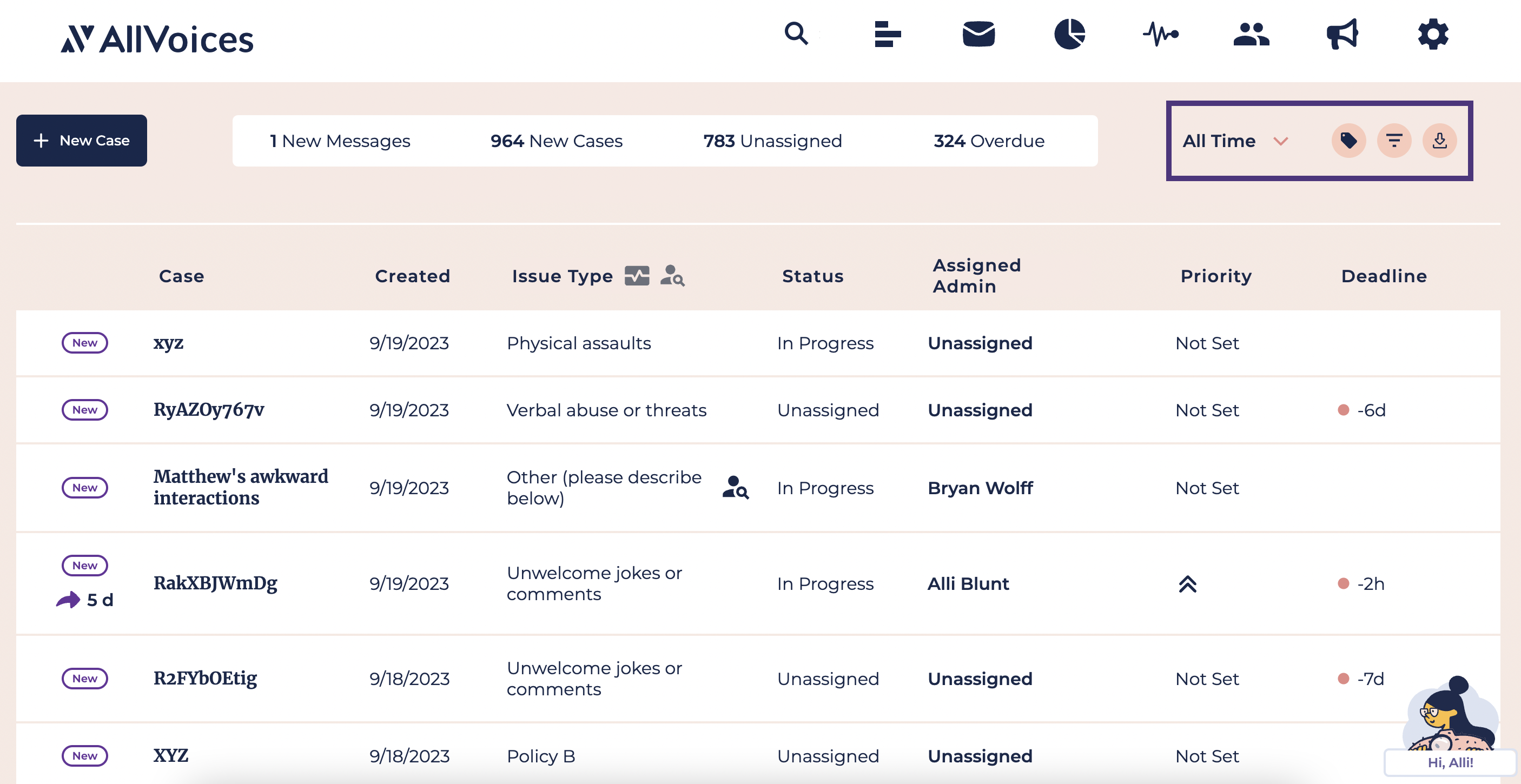 Data Range Filter: When selecting this text you can switch between viewing cases from All Time to the last 7 days, 30 days, 60 days, 90 days, Year to Date, and Custom. With the Custom option you can select the timeframe that makes the most sense for you.
Tag Icon: This icon will allow you to filter and search by tags you have created. Reminder: you can add tags to cases to easily find cases related to the same topic.
Advanced Filter Icon: This icon allows you to search by location and department.
Export Icon: The export icon will export a CSV file of all case data so you can save or send internally, or do further analysis.
Column headers: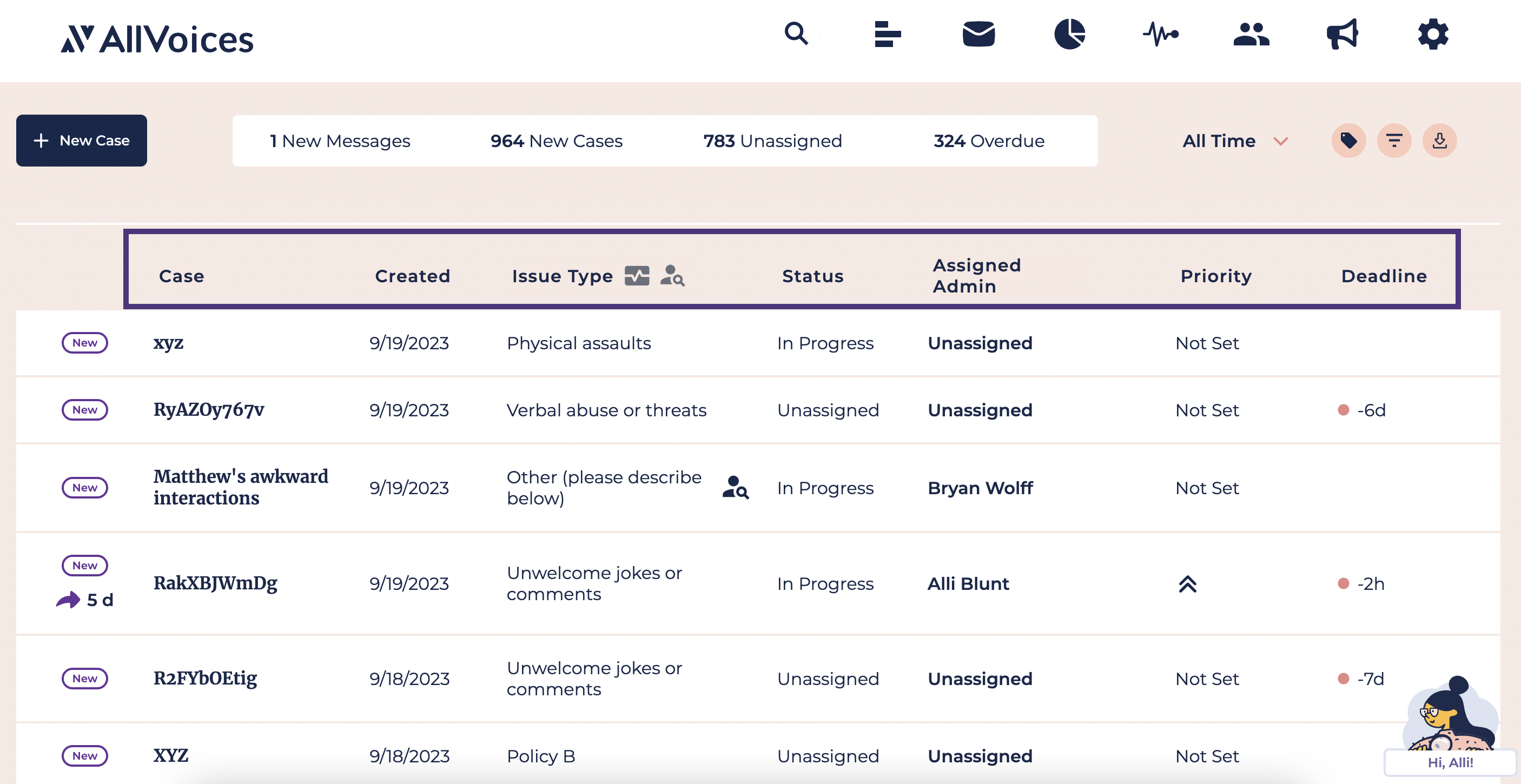 The Case, Created, Issue Type, Status, Assigned Admin, Priority, and Deadline column headers are all clickable to either sort or filter. Once clicked you can sort or filter by that header - for instance, if you click "Created" you can see cases by newest to oldest or by oldest to newest.
The two icons next to "Issue Type" signify if the case has a Performance Improvement workflow (heartbeat icon) or Investigations Workflow (person with the magnifying glass) related to the case. Performance Improvement is a new feature coming very soon that allows you to collect, track, and manage performance issues related to employees within AllVoices.
The status column is new! Here you can easily see if a case is unassigned, assigned, in progress, or resolved. In progress would indicate action has been taken on the case (such as messaging).
Icons next to case:

The "New" icon next to a case signifies if the case is new to you. The message icon next to a case means there is an unread message.
Thank you for reviewing our walkthrough of Case Manager 2.0! If you have any questions at all, please reach out to your Customer Success Manager, chat with us on our website, or email us at support@allvoices.co.