Meet Vera, your Virtual Employee Relations Assistant. With advanced technology and artificial intelligence Vera is the next step in our mission to help you uncover and resolve workplace issues.
Vera uses AI to enhance your AllVoices experience by helping with a wide range of tasks including co-creating responses to employee messages, DEI efforts, mitigating risk, drafting policies, streamlining everyday HR tasks, providing quick answers to frequently asked questions, and so much more. Say hello to Vera and experience the future of workplace issue resolution!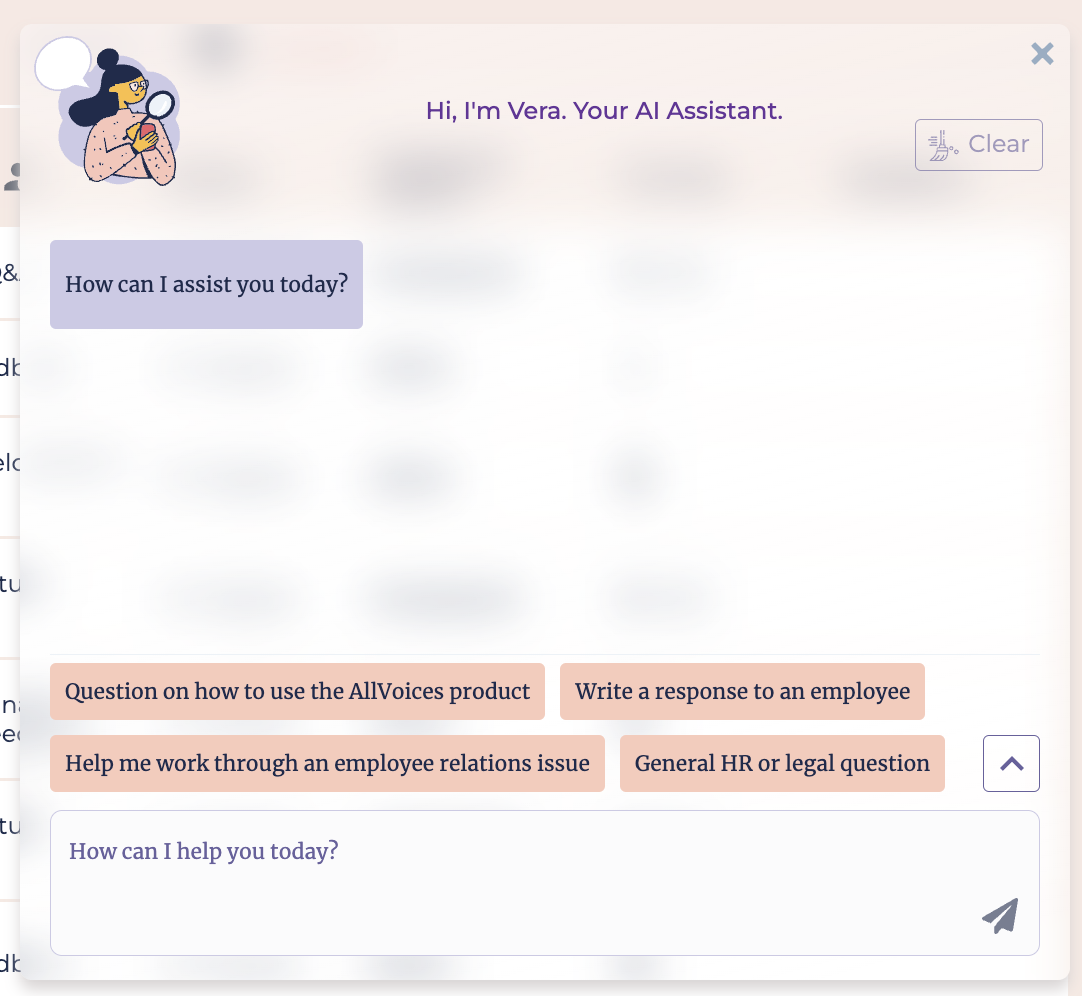 How Does Vera Work?
Click on the Vera icon on the side of your screen to ask Vera a question
Click 'Show Prompts' to see a wide-range of easy-to-use questions to get started, or type in your own question in the text box
You can select 'Regenerate prompts' to see additional prompts available for use
Feel free to ask clarifying questions or ask for additional details after receiving Vera's response, or you can exit out of the conversation if you've gotten all you need from Vera
What Can Vera Help With?
AllVoices product questions: Ask Vera about how to add an admin, or for pulse survey templates, or how to change notification settings in platform.
Quick responses to employee messages: Stumped on a message from an employee? Whether you receive that message in the AllVoices platform or elsewhere, Vera can help you draft and create a well researched response to your employee to ensure they feel heard.
Improving employee engagement: Ask Vera about promoting your anonymous reporting tool to collect more feedback or key trends in the employee engagement space. She can also help with DEI efforts, coming up with creative ideas for employee benefits, and creating a plan to foster a culture of creativity and innovation in the workplace.
Enhancing employee development: Vera can help you learn more about effectively supporting employee career development and advancement. She also has helpful tips for employee performance improvement.
Day-to-Day Support: Streamline your workflows by asking Vera about day-to-day questions that pop up as you're actioning on a case, messaging an employee, or creating sensitive documents or emails for your employees.
Mitigating Risk: Ask Vera about mitigating risk when it comes to an employee's health and safety. She can provide extensive research and information regarding to law and policy to reduce risk but cannot provide legal advice.
Drafting Policies: Ask Vera about creating a policy. She can show you research on other related policies and will ask for specific company details to cater the policy to your organization.
So much more including: translations & research on policies in other countries, learning more about current workplace challenges and solutions, and trends in the HR & employee engagement space.
What Are Vera's Limitations?
At this time you cannot upload files when chatting with Vera, this iteration only accepts text
Vera's data source, GPT4, lacks knowledge of events that occurred before its data set cuts off (September 2021)
Vera's data source, GPT4, does not learn from its experience
Vera's data source, GPT4, can make "simple reasoning errors" or be "overly gullible in accepting obvious false statements from a user," and not double-check work
Vera is the latest GPT version but still has limitations as she is not human. AI can produce inaccurate information from time to time - it's a good rule of thumb to double-check anything based on data. Vera will continue to learn with more use and will be upgraded as new versions are released
Why Vera / AI:
Although AI cannot (and should not - after all, we want to keep the human in human resources) replace HR, it has the potential to significantly simplify HR team tasks and responsibilities. HR professionals are often occupied with various task including employee relations, performance management, hiring, and exit interviews.
AllVoices has selected and trained AI technology in the form of Vera to streamline and automate as many of these HR duties as possible. Vera is designed to more effectively help HR teams resolve complex workplace issues and streamline everyday tasks to allow HR folks to focus on the most strategic parts of HR. At AllVoices we have specifically selected and trained AI to create Vera - she is more advanced than simply using ChatGPT.
Data & Security:
AllVoices has opted out of sharing any data back with Open AI and any data you share with Vera is protected/encrypted.
If you have any additional questions, please reach out to support@allvoices.co.