Adding Admins To AllVoices Guide

What is this?

This guide outlines how to invite new admins to your AllVoices company account directly from within your Settings page in AllVoices.

Who is this for?

The steps outlined in this guide requires you to be logged in as the owner administrator for your company's AllVoices dashboard.

How To Invite Admins

1. Log into AllVoices using your owner administrator username and password

2. Click on Settings in the top right hand corner of the dashboard page

3. On the Settings page, click AllVoices Admins

4. On the admin panel, click Add New Admin

5. Enter your admin's full name, admin role, company email address and if desired, a personal note that will be included in the invitation.

6. When you've finalized your selections, click Add Admin to continue.

Note: Your invited admin will have 72 hours to accept the invitation, otherwise it must be resent.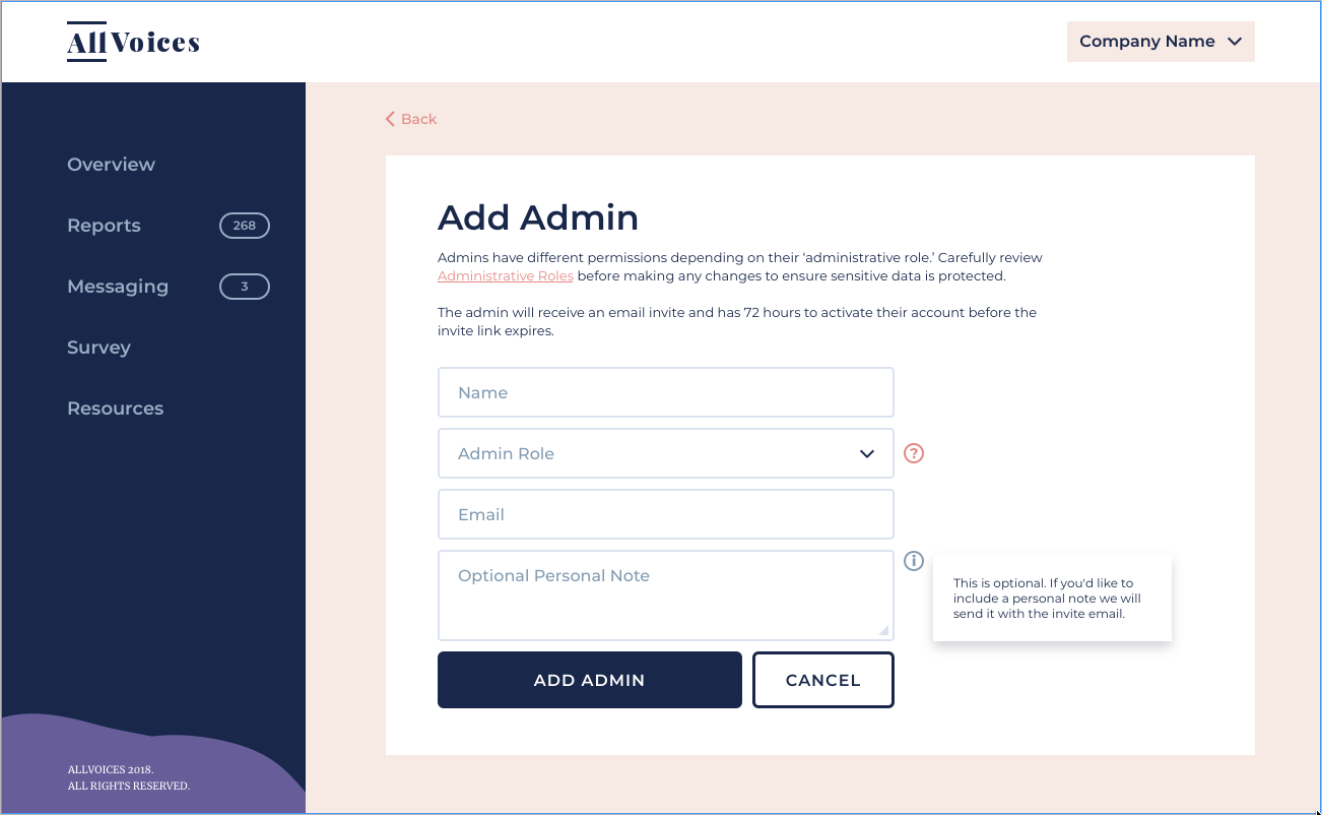 Admin Management

Once you've invited your admins, you will be able to manage them on the AllVoices Admins settings page.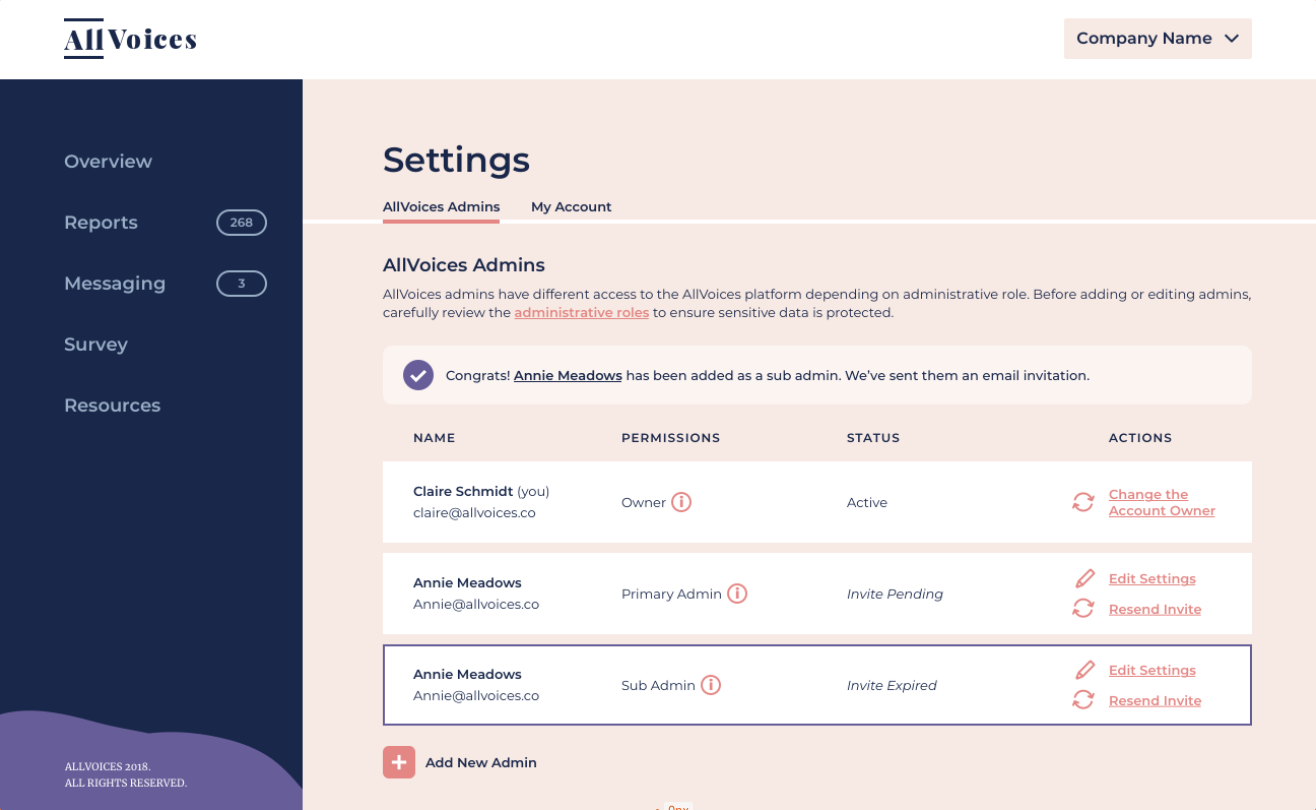 On this page, you'll be able to:

Review admin permissions

Monitor admin statuses

Resend invites

Edit admin-specific settings

Admin Permissions

There are four admin types that exist in AllVoices, each with their own set of permissions:

Owner (that's you!)

The Owner has complete control over the account and can take action on everything. Only the Owner can remove admins, change admins' roles, and create routing rules.

Ownership can only be transferred by contacting AllVoices directly.

Primary Admin

The Primary Admin has full access to the platform. They can do everything the Owner can do except remove admins, change admins' roles and create routing rules.

Sub Admin

The Sub Admin has limited access to the platform. They can view limited charts and data in the Overview tab for their reports and cases. They can only view and take action on individual reports if granted access and on cases they create or if granted access.

Viewer

The Viewer has view-only access to the platform. They can view limited charts and data in the Overview tab for their reports and cases. They cannot take action.

Admin Statuses

On the AllVoices Admins settings page (pictured above), you will see your admins' statuses as they exist in AllVoices:

Invite Pending - Invite has been sent but not accepted.

Invite Expired - Invite was sent, but the account was not activated in 72 hours, so the invite expired.

Active - Admin accepted the invite and activated their account.

Note: Previously deactivated admins are not visible on this page.

Admin-specific Actions

After your admin has been invited, you can take further action on them by selecting the items found in the Actions column (pictured above). Edit Settings beneath the Actions column.

Resending Invites
As noted above, invitations sent to admins will expire after 72 hours. If you need to resend an invite, simply click the Resend Invite button underneath the Actions column as pictured above.

Changing Account Owners

If you wish to change the owner of your AllVoices account, click the Change the Account Owner button in the Actions column for the admin of your choice. On the next page, you will be prompted to select an existing admin to replace you as the owner. Please note that there can only be one owner per AllVoices account. By completing this action, you will not longer have Owner-level privileges in AllVoices.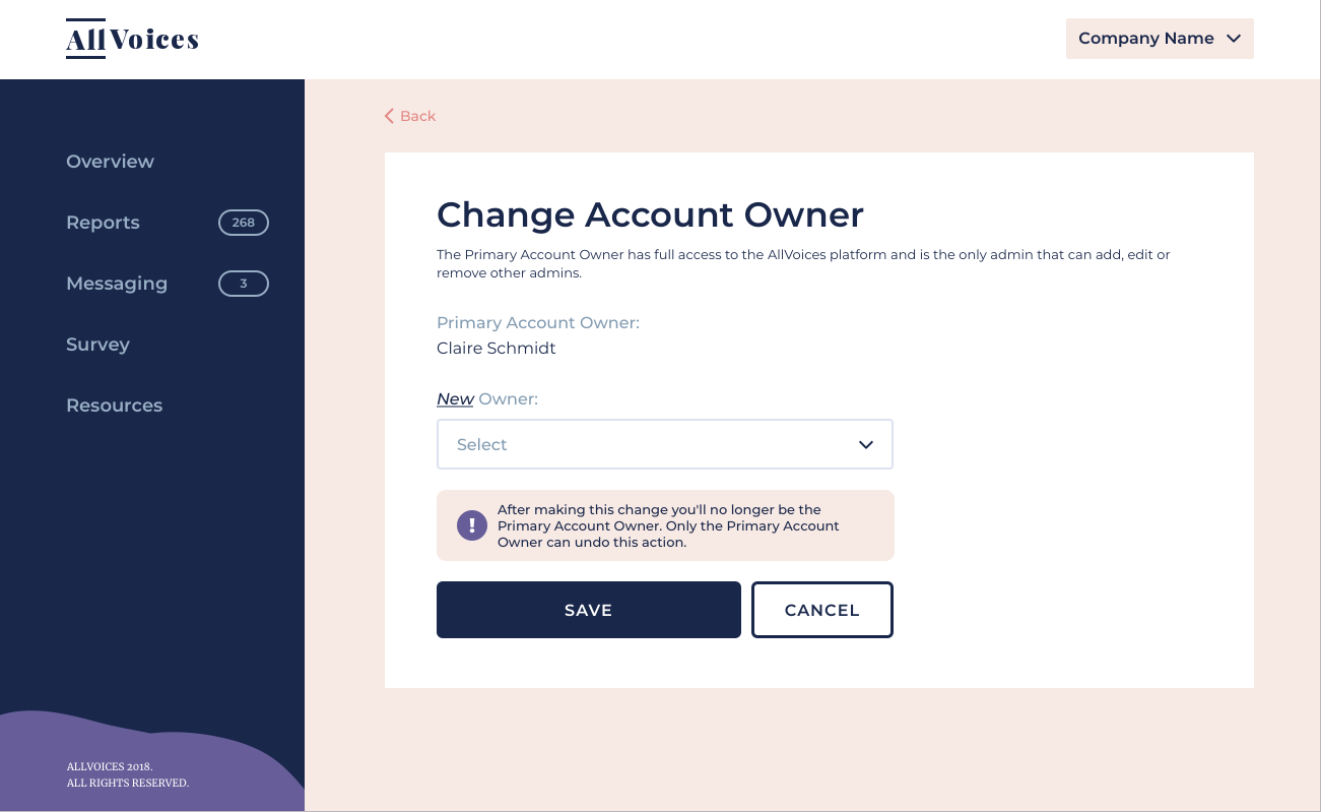 Editing Admin Settings

If you'd like to edit the settings for an individual admin, click the Edit Settings button under the Actions column for your desired admin. In the page that follows, you'll be able to:

Rename the admin

Change the admin type

Remove admin access to AllVoices

Resend the invite